Ion Britchi is one of the best Moldovan fighters. He has been involved in sports since he was a child and never stopped training. In 2021 he deserved the chance to participate in the SENSHI professional fight nights.
The Kyokushin karate fighter was part of the seventh edition, but lost to the Bulgarian Daniel Galabarov after three full rounds of action and a judge's decision.
Ion visits Bulgaria often and does his best during the International Professional League Camps of the Kyokushin World Union (KWU). In an interesting interview for Boec.com, he revealed best moments from the past year and spoke about many interesting topics.
"The best moment of 2021 for me was the participation in SENSHI. I met many good fighters, the legends of K-1 Semmy Schilt, Peter Aerts, Ernesto Hoost, as well as Shihan Ivo Kamenov and Shihan Alexandr Pichkunov. The atmosphere in the camps is getting better with each passing year."
Britchi considers his match against Galabarov a positive experience.
"I am a fearless fighter. I was 96 kilograms against Galabarov, and he was 116 kg. I always want to fight – this is the spirit of karate. Even if you are injured, you still go out, there are no excuses."
"It was unpleasant that I had to fight Daniel Galabarov after I had a coronavirus infection and I was not in optimal form. However, I did not refuse the challenge."
"I showed the spirit of a samurai and did not betray Kyokushin principles. I must be with a severed arm, leg or without head to give up a fight."
"SENSHI fight nights are great and I really like the KWU Professional League Camps. The atmosphere is very close to my heart. There are only tough fighters who have respect for each other. There are no insults, only discipline. This is very important – a real league of warriors and gentlemen", said the Moldovan karateka.
He considers the international camps to be extremely helpful
"Schilt, Aerts and Hoost are doing a very hard job of teaching the new generation of fighters. They show everyone's weaknesses. These great three men reveal their best combinations of punches and kicks. However, they also learn how a fighter in the ring should think. It's a very valuable experience, that can't be learned, if not personally."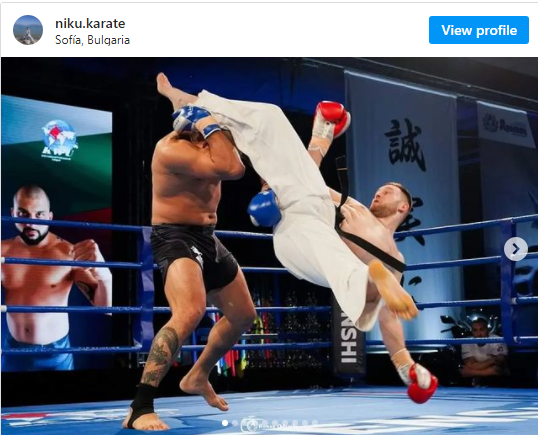 "I remember a fun moment when Semmy didn't expect me to reach his head with a right high kick (laughs)."
"I definitely want to fight in SENSHI again. I can go against anyone up to 90 kilograms, I also want a rematch from Amirouche Filali (France)."
Britchi recalled his participation in the KWU European Kyokushin Championship in Varna, December 2021. He won a bronze medal.
"I could not win the KWU European gold, but I will work very hard for the next one. This was the first medal for Moldova from such a championship. In my opinion, my compatriots will win a lot of trophies very soon. This is only the beginning."
"I decided to start training in martial arts when I was 5. I watched movies with Jean-Claude Van Damme, Bruce Lee,Mark Dacascos, Jackie Chan, Steven Seagal, Jet Li, Sylvester Stallone. I was very impressed with their skills. I was self-taught until I was 12 when we moved to the big city. Then my parents took me to the dojo and kickboxing gyms."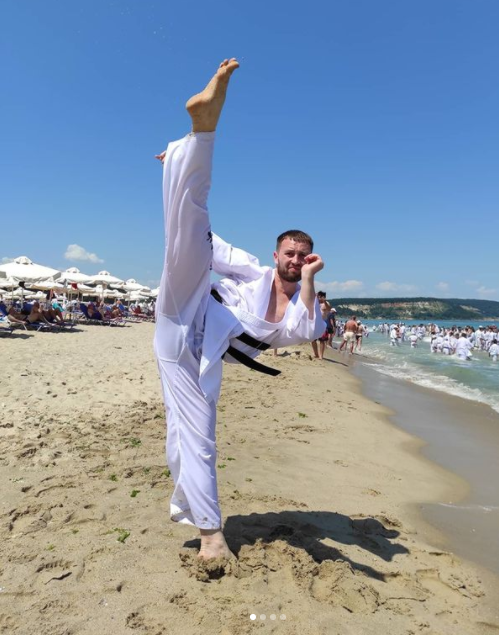 "My friends are proud of me. My family, too, but they are afraid of me getting as badly injured as some other fighters in their careers."
"Bulgaria is a very beautiful country with good people. There are wonderful places and impressive nature. Every moment there was special to me. I like to train and fight in Bulgaria and appreciate the new knowledge I have learned."
According to Ion Britchi, his homeland will still develop a lot in these disciplines.
"Yes, Moldova can perform much better in martial arts. We need more coaches and ideas, fresh blood. We need fighters to share their experience. We also need more challenges abroad."
In the end, the Kyokushin champion made a promising prediction.
"I wish SENSHI fans to support the best gala. Their choice is very good, because the fighters will become very popular worldwide. I want to tell the Bulgarians to keep hitting hard. The road is long and uneven. In my opinion, a new era is now beginning for the countries of the former Soviet bloc, and soon we will all dominate martial arts", Jon Britchi predicted.