Are you ready to take your fighting skills to the next level? Look no further than the upcoming KWU SENSHI Camp hosted by the KWU International Professional League. The camp will occur from 11 May to 14 May at SENSHI Gym, Varna, Bulgaria.
The hosts have prepared a great surprise in the face of LERDSILA as an instructor for the first time at these large-scale events from the world of combat sports.
LERDSILA is a Multiple-times Muay Thai World champion, 3-times WMC Lightweight World Champion, 3-times Rajadamnern Stadium champion in three weight classes, and World kickboxing champion in 2013. His nickname is Mr. Lightening. He has an impressive fight record: 191 wins, 33 losses, and 5 draws.
---
Other parts of super instructors are Albert Kraus – the first K-1 World MAX Tournament Champion in 2002 and also the first SUPERKOMBAT Middleweight Champion. Kraus has also held four separate world titles in Кickboxing and Muay Thai.
Andy Souwer – 2-times K-1 World MAX champion and 4-times Shootboxing World champion, Showtime 70MAX World champion, World Muay Thai champion.
Shihan Asen Asenov, member of the management board of the Bulgarian Karate Kyokushin Federation. He is the first Bulgarian gold medalist in European Kyokushin Championship in 1988, as well as European Kickboxing Champion in 1994.
Sensei Jan Soukup – All Japan Tournament Champion 2004, European champion in 2007, 2nd place 9th Kyokushin World Open 2007, Yangame's Fight Night Heavyweight champion 2014, SENSHI winner 2019, 1st European Full contact championship 2nd place, 2020.
Sensei Zahari Damyanov – Absolute Kyokushin World champion 2015, 4-times American Absolute champion, 4-times European Kyokushin Champion.
Sensei Petar Martinov – Kyokushin World champion 2014, Kyokushin European champion 2006, 3rd place European open 2008, 3-times European Tameshiwari champion.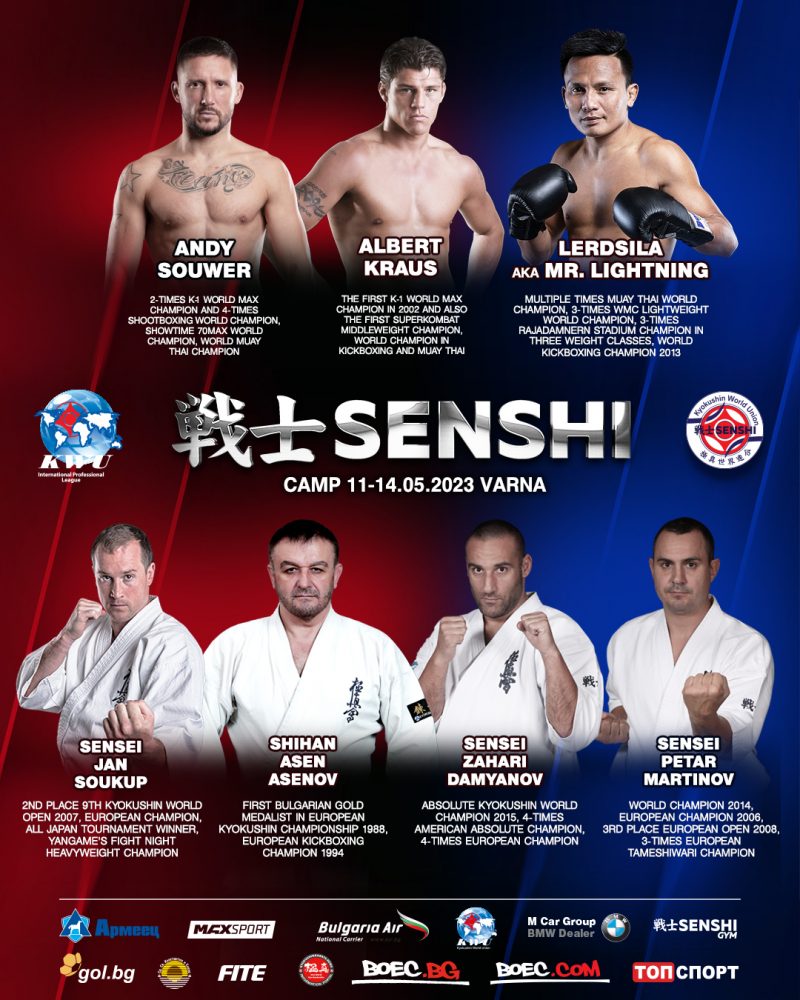 The Camp will be accompanied by the 16th edition of the spectacular SENSHI international gala fight night, in which 26 elite fighting stars from all over the world will compete in titanic clashes, including two bouts for the European SENSHI title.
The KWU SENSHI Camp is open to anyone interested in learning and improving their fighting skills, whether they are beginners or experienced fighters. Participants will come away from the camp with new skills, increased confidence, and a sense of camaraderie with their fellow participants.
Spaces for the KWU SENSHI Camp are limited, so interested participants are encouraged to register early.
Accommodation and training costs of the participants are covered by the organizer. The master classes will take place in one of the best sports complexes in Varna – the prestigious sports center "SENSHI Gym" in the period between May 11th and 14th.
To register or learn more about the KWU SENSHI Camp, please fill out the Application-form and send it to: senshi_bulgaria@abv.bg until April 20, 2023