The spectacular fight night will take place on December 9th in Melbourne, Australia
Many spectacular clashes, elite fighting stars and high fighting spirit will offer the special edition of the international gala fight night SENSHI and CHIKARA to the fans of fighting sports and strong emotions in Australia. On December 9th at Dom's Social Club, Melbourne, Australia's top fighters and Europe's best fighters will square off in the heated ring in 11 fierce bouts.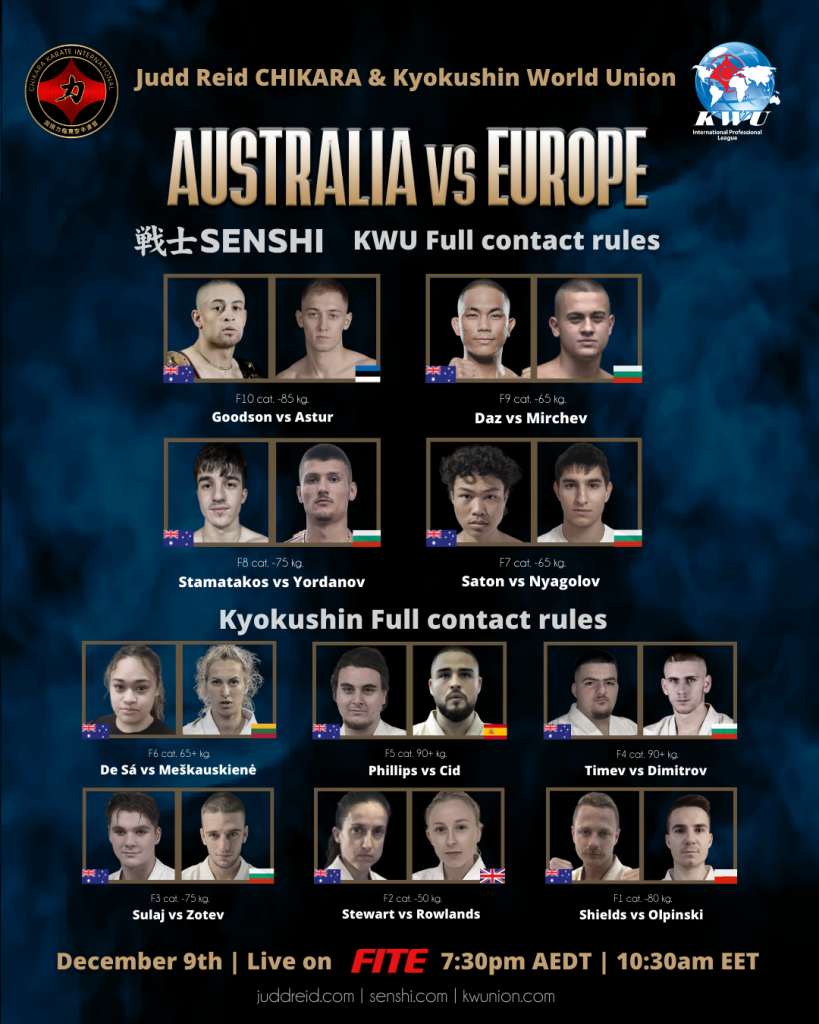 Elite European and World Kyokushin Karate Champions from Poland, Lithuania, the United Kingdom, Spain and Bulgaria will take part in six spectacular fights under the rules of Full Contact Kyokushin Karate. They will face Australian champions in 3 rounds of 2 minutes each. This is a traditional CHIKARA tournament, with Shihan Judd Reid hosting the event.
During the spectacular special fight event, attendees will also be able to enjoy five titanic clashes under KWU Full Contact rules. Unpredictable fights until the very end will heat up the atmosphere at Dom's Social Club. Local kickboxing stars will step into the ring in a battle for the SENSHI belts against proven European champions from Estonia, Czech Republic, and Bulgaria.
The spectacular battle fight night of CHIKARA and SENSHI will be accompanied by many surprises. Especially for martial arts practitioners, a training seminar featuring some of the biggest names in professional kickboxing and martial arts will be held at CHIKARA Honbu Dojo on December 10th. Australian K-1 legend Sam Greco will join as an instructor and motivator, teaching fine fighting techniques, mind and body training skills. The participants in the seminar will receive valuable advice and knowledge to improve their fighting techniques from the Absolute Kyokushin Karate World Champion Sensei Zahari Damyanov. Together with Shihan Judd Reid – the last student of Kyokushin founder Sosai Masutatsu Oyama to pass the 100 fights in one day, these three greats in Kyokushin and Kickboxing will teach their skills and knowledge, inspire everyone present and answer all questions related to the great art of martial arts.
Don't miss the one-of-a-kind spectacle in Full Contact combat sports! Watch live from Australia on FITE on December 7:30pm AEDT | 10:30am EET.