Among 12 challenging fights, SENSHI 18 will offer two titanic battles for the European titles in the heaviest categories
The upcoming SENSHI 18 International Gala Night will show the audience spectacular fights, including two matches for the SENSHI European title, in the KWU FULL CONTACT ruleset in the category up to 90 kg and the most attractive category 95+ kg.
The fight gala evening, which includes 12 fights and vital participants from 14 countries, will be held on September 16 at 18:30 in the city of Varna, "St. St. Constantine and Helena" resort, with an arena on the beach in front of the restaurant "More".
Eduard Aleksanyan vs. Jakob Styben – category up to 90 kg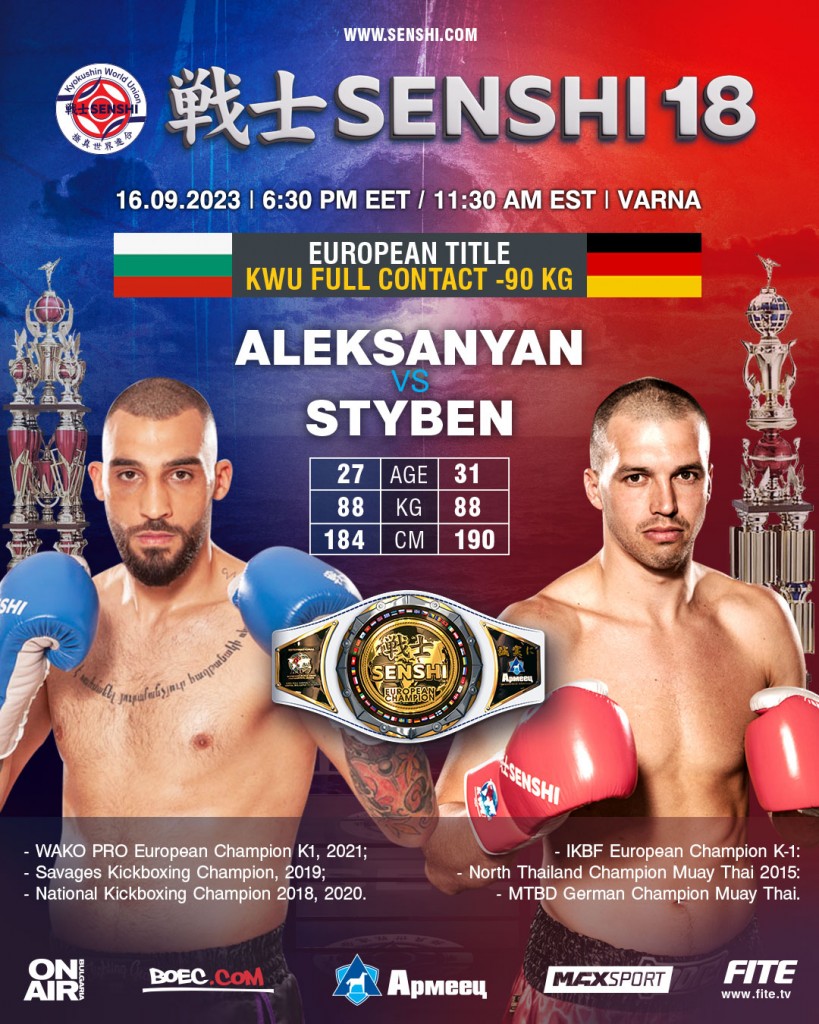 One of the biggest stars of Bulgaria in martial arts – Eduard Aleksanyan, will face a strong opponent in a match for the European title in the category up to 90 kg. Aleksanyan has ten wins in the SENSHI ring, five by knockout. He holds the prestigious title of WAKO PRO European K-1 Champion in 2021. Edward is a national kickboxing champion in 2018 and 2020 and Savages kickboxing champion in 2019. He is also a champion in national boxing championships and a winner in karate Kyokushin tournaments.
In April 2023, Eduard was ranked in the top 10 of the world's best kickboxers at middleweight by the prestigious media Combat Press.
He will fight for a European title SENSHI in the weight category up to 90 kg against Jakob Styben from Germany. Styben is a multiple participant in both SENSHI camps and the circuit's fighting gala nights. He is the IKBF European Champion K-1, North Thailand Champion Muay Thai in 2015, MTBD German Champion Muay Thai, and German Champion K1 (IKBF). In his previous fight against Pavel Voronin at SENSHI 15, he won the bout by unanimous judges' decision.
Bruno Suzano vs. Ahmed Krnjic – category 95+ kg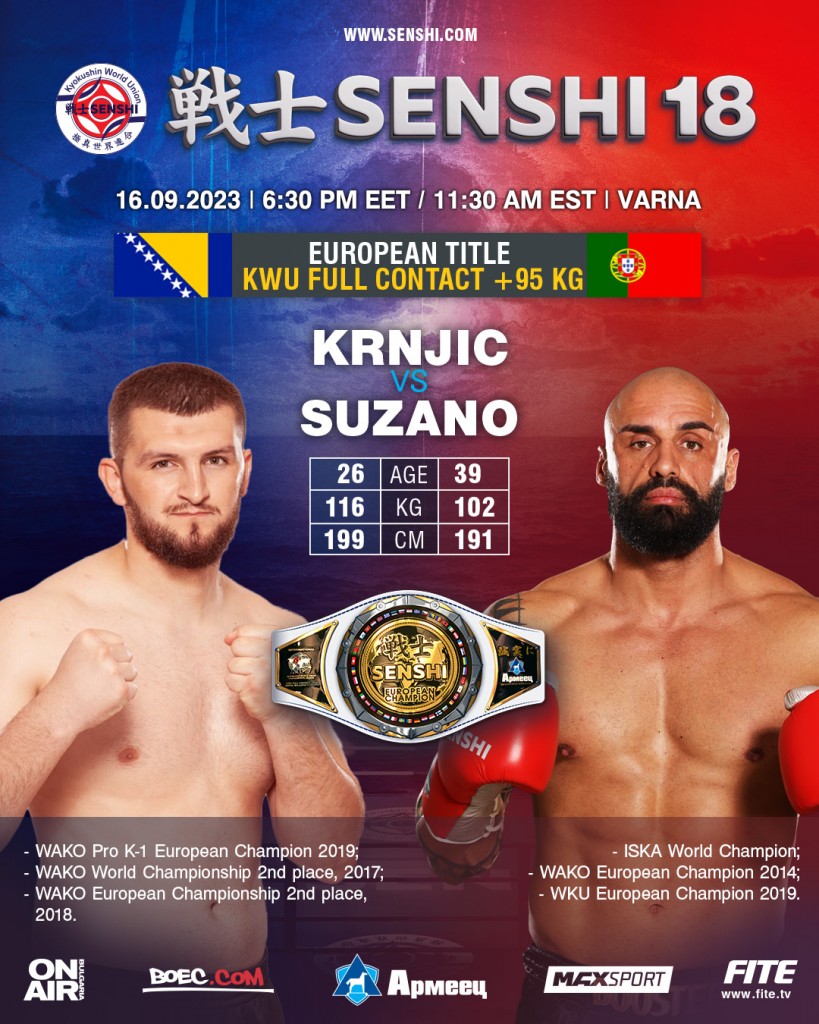 Bruno Suzano from Portugal will face Ahmed Krnjic from Bosnia and Herzegovina in a controversial battle for a European SENSHI title.
Bruno Suzano is already known to the Bulgarian public for his two victories in the SENSHI ring this year. He is the ISKA world champion, WAKO European champion from 2014, and WKU European champion from 2019. At SENSHI 17, he defeated Frenchman Abdarhmane Coulibaly, and at SENSHI 15, he prevailed over Claudiu Istrate.
His opponent in the arena, Ahmed Krnjic, has four wins at the previous editions of SENSHI in Bulgaria. He is the WAKO Pro K-1 European Champion from 2019, and he won 2nd place at the WAKO World Championship in 2017 and the WAKO European competition in 2018. Krnjic won the WAKO Balkan Championship K-1 rules in 2017 and 2018.
Tickets for the SENSHI 18 International Combat Gala are almost sold out, so don't delay buying your ticket from the network of Eventim.bg.
SENSHI 18 is organized in cooperation with the Professional League of the Kyokushin World Union (KWU International Professional League), as well as with the special support of Armeec Insurance Company, MAX Sport, Bulgaria Air, M Car Group – BMW dealer, Rolls-Royce Motor Cars Service and St. St. Constantine and Helena Holding.
SENSHI's media partners are Boec.BG and Boec.COM, the national television Bulgaria ON AIR, the American online martial arts television FITE, Gol.bg, Topsport.bg, Kwunion.com, the information portal Kyokushin Karate News and Fighto.News.