The Brazilian star Marcio Jesus will face young French talent Jonathan Mayezo in a KWU series match at SENSHI 15 to try and increase his dizzying assets in the professional ring.
Jesus is only 29 years old, but already has 61 wins and 3 losses in Muay Thai and 22 wins and 2 losses in K1, which undoubtedly ranks him among the best fighters in cat. up to 70 kg in his country.
Kao, as the 22-year-old Frenchman is better known, is also developing at a rapid pace. His asset is 24 wins, 8 losses and 1 draw. However, he has finished 10 of his successes by knockout, which is comparable to his opponent's 13 knockouts in total.
The Frenchman will have extra motivation to succeed on February 18, because in his last meeting with Ahmed Buchiber last May, he conceded at the Star Night Gala. Two losses in a row would definitely send him down the rankings, and a win over a star of Marcio Jesus' caliber would make everyone look at him with a lot more respect.
Kao and Jesus will fight in cat. up to 70 kg under KWU SENSHI rules.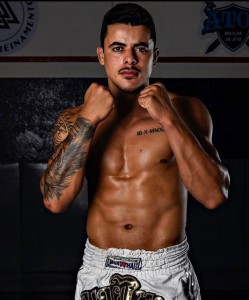 Tickets for SENSHI 15 are now on sale and can be purchased from the Eventim.bg network.
The fight card of SENSHI 15 will feature 16 gladiatorial fights between elite fighting stars from 18 countries under KWU Senshi and KWU Full Contact rules, with the first time seeing the heated arena and matches under KWU Open rules.
The fight night will be broadcast live on Bulgaria ON AIR and Max Sport 1 for Bulgaria, as well as in real time worldwide on American television FITE, Senshi.com, Boec.bg, Boec.com, Kwunion.com and Kyokushin Karate News.
SENSHI is organized in cooperation with the Professional League of the Kyokushin World Union (KWU International Professional League), as well as with the special support of Armeec Insurance Company, MAX Sport, Bulgaria Air, M Car Group – BMW dealer, Rolls-Royce Motor Cars Service and St. St. Constantine and Helena Holding.
SENSHI's media partners are Boec.BG and Boec.COM, the national television Bulgaria ON AIR, the American online martial arts television FITE, Gol.bg, Topsport.bg, Kwunion.com, the information portal Kyokushin Karate News, Fighto.News and Novinata.bg.