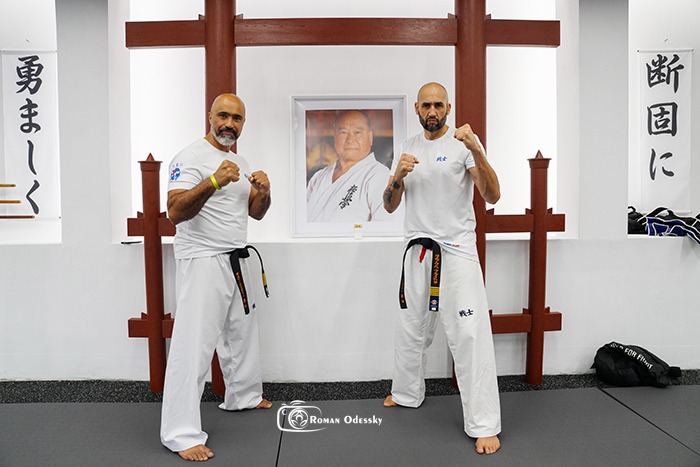 Free will is the ability to make informed choices to live an enriching and meaningful life. It gives a sense of empowerment to face the present reality boldly. It is free will that makes people courageous enough not to accept the present as fate and work hard to alter their destiny. So, whenever you face failure in life, exercise your free will to succeed.
We want to show the truth about the changes that occurred in the lives of Shihan Francisco Filho and Shihan Glaube Feitosa. Why? Because in recent days there is speculation, rumors, and false information being published.
On 27 November 2022 both Shihan Filho and Shihan Feitosa sent emails with personal messages about leaving the IKO. We share these letters censored by their wish. The date of the resignation is important.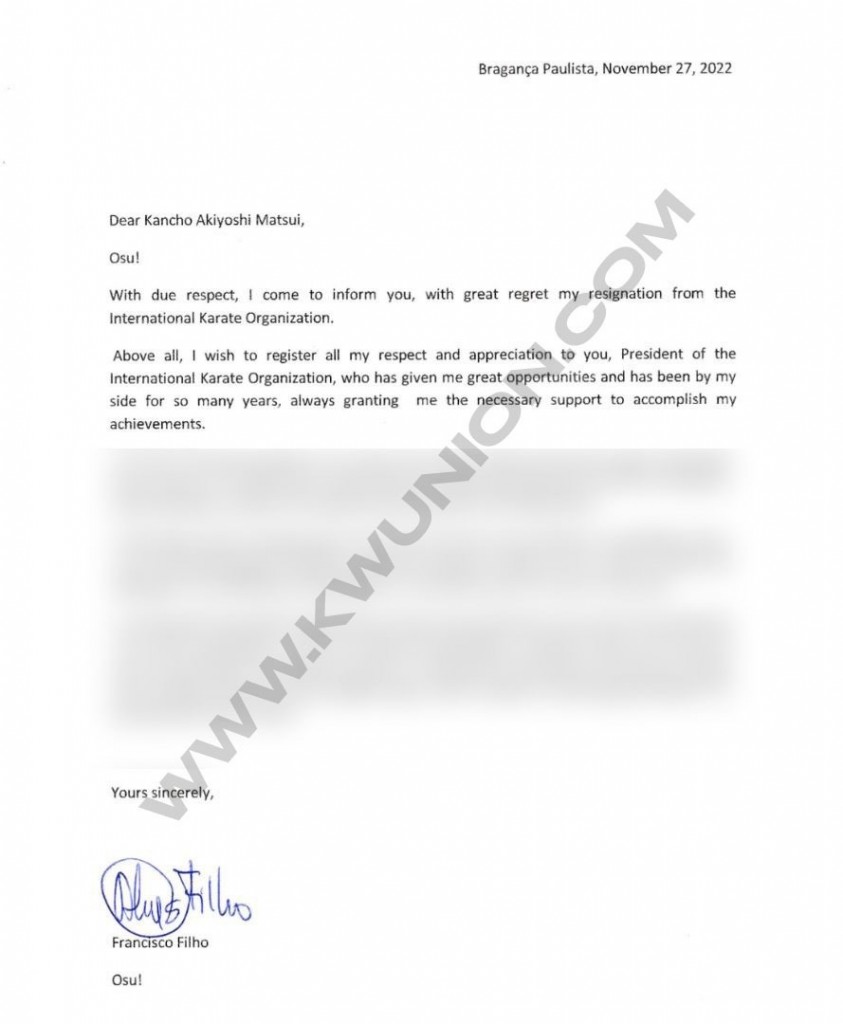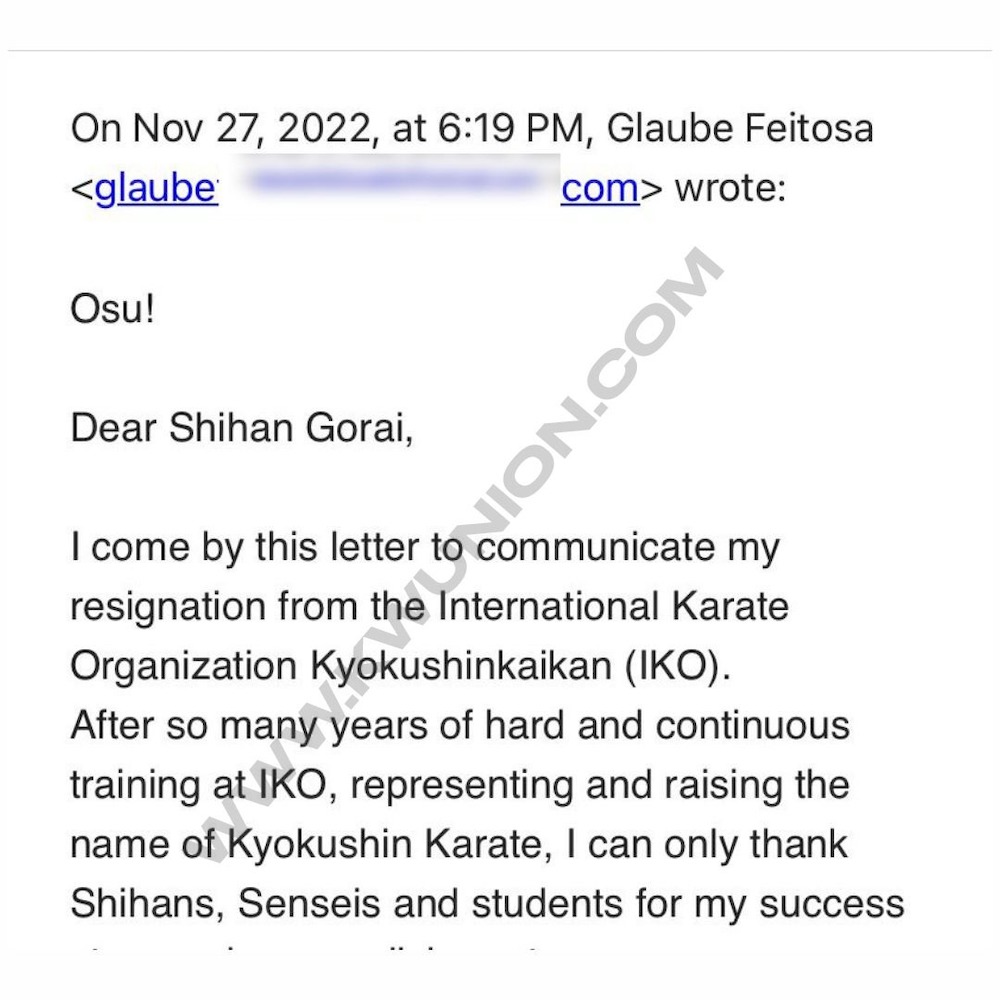 What is exactly the reason why they left is personal and only both Shihans has the right to tell people. We just want to share the timeline of the events.
Their presence as the main group of instructors at the KWU SENSHI camp started a wave of speculation and gossip. We hope this article will help all of you to understand that they are not expelled in reality because they already left.
Letter from Gorai on December 8th, 2022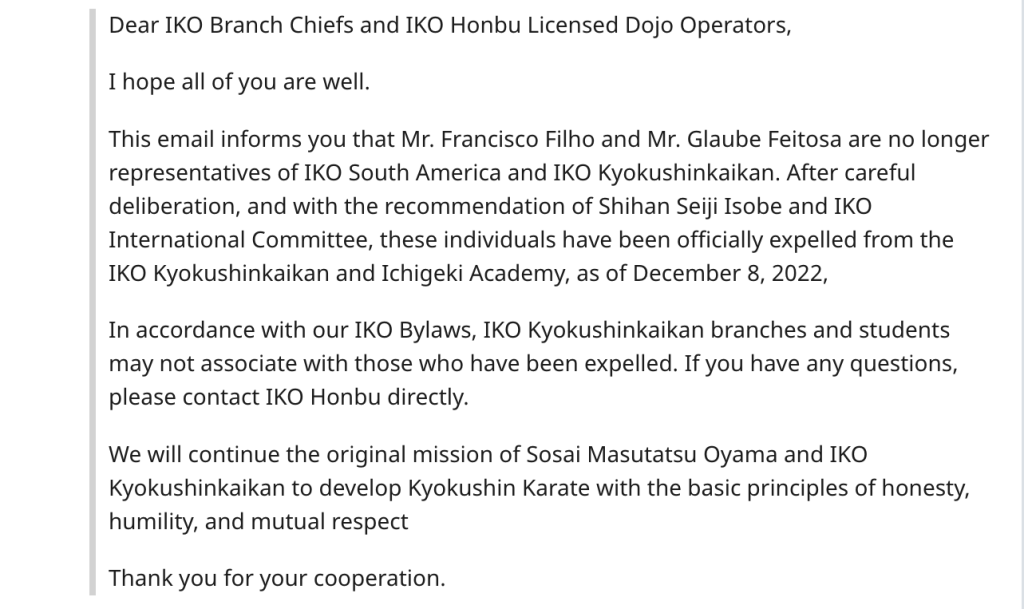 Publication on the IKO website on December 10th, 2022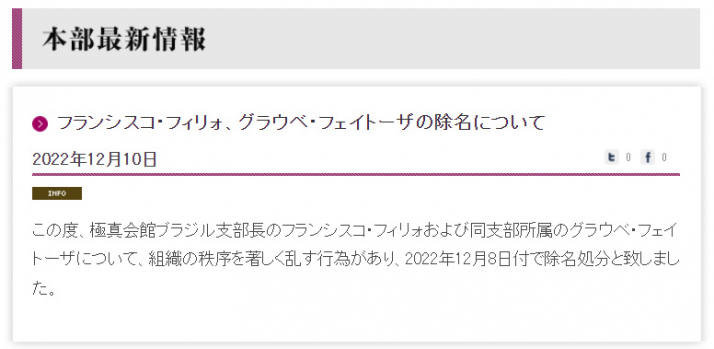 Expulsion of Francisco Filho and Glaube Feitoza
10 December 2022.
The expulsion of Francisco Filho, head of the Kyokushinkaikan Brazil branch,
and Graube Feitoza, a member of the same branch, has been effective as of 8
December 2022, due to their conduct seriously disturbing the order of the
organisation.
We leave the conclusions to you. So what the future is going to hold for them depends on their free will exercised in the present moment.
Who are they
Shihan Francisco Filho is a Brazilian Kyokushin Karateka and kickboxer. He is one of the few karate-ka to have successfully completed the 100-man kumite more than once.
He holds notable K-1 wins over Sam Greco, Andy Hug, Remy Bonjasky, Ernesto Hoost, Peter Aerts, and Stefan Leko.
Francisco Filho started Kyokushin at the age of 11 and received a black belt six and half years later. He made his professional K-1 fighting debut on July 20, 1997, at the K-1 Dream '97 tournament against Kyokushin and Seidokaikan fighter Andy Hug. This was their second encounter, the first being at the 5th Kyokushin World Tournament in 1991 which resulted in a controversial knockout victory for Filho with a technique that connected after the bell rang. The second fight was also won by Filho quickly earning the Brazilian a large fan base in Japan as well as making him one of the then-top contenders for the K-1 World GP Championship title.
Filho has since held championship titles in both K-1 as well as in Kyokushin. He has not taken part in any major competition since 2004 but remains active in developing young fighters and overseeing Brazil's Kyokushin national team.
In 2012, he appeared on The Ultimate Fighter: Brazil coaching with Vitor Belfort.
Kickboxing
2001 K-1 World Grand Prix Runner Up
2001 K-1 World Grand Prix in Fukuoka Repechage A Champion
2000 K-1 World GP in Yokohama Champion
Kyokushin
1999 Gold 7th Kyokushin World Open Karate Tournament (defeated Hajime Kazumi)
1997 Gold 1st Kyokushin World Weight Tournament Heavyweight
1995 Bronze 6th Kyokushin World Open Karate Tournament IKO 1 (lost to Hajime Kazumi)
1995 Gold Brazilian Open
1994 Gold Mundialito Open
1994 Gold 7th South American Championships
1993 Gold Brazilian Open
1992 Gold 6th South American Championships
1992 Gold Brazilian Open
1991 5th Kyokushin World Open Karate Tournament final 16 (lost to Kenji Yamaki)
1991 Gold Uruguayan Open Karate Championships
1990 Gold Paulista Championships
1990 Gold Brazilian Open
1989 Gold 5th South American Championships
1989 Gold Paulista Championships
1988 Gold Paulista Championships Juniors
1988 Brazilian Open 6th place
1987 Brazilian Open 7th place
1987 Gold Paulista Championships Juniors
1986 Silver Paulista Championships Juniors
1985 Silver Paulista Championships Juniors
In 1995 Francisco Filho completed 100 men Kumite in Brazil and in Japan.
Active fighting years: 1985 – 2001


Shihan Glaube Feitosa is a Brazilian kickboxer and a Kyokushin full-contact karate practitioner who was competing in K-1. In 2005, Feitosa won K-1 World Grand Prix 2005 in the Las Vegas tournament and was a K-1 World Grand Prix in 2005 finalist. He has gone the distance with some of the top fighters of his time, such as Peter Aerts, Remy Bonjasky, Semmy Schilt, and Errol Zimmerman. An accomplished karate fighter, he was known for his use of the "question mark kick," utilizing the technique in several knockout victories in his career. Feitosa also holds wins over Cheick Kongo, Alistair Overeem, Ruslan Karaev, and Paul Slowinski.
A native of Brazil, Feitosa began training in Kyokushin karate from a young age and fought in several world championship tournaments. While living in Tokyo, Japan he fought and trained in the Kyokushin – Team Ichigeki at the Ichigeki Plaza.
On April 30, 2005, Feitosa won the K-1 World Grand Prix 2005 in the Las Vegas tournament with a unanimous decision over Dewey Cooper and two knockouts over Carter Williams and Gary Goodridge. At the eliminations, he lost by decision to Semmy Schilt.
As a reserve fighter Glaube beat Goodridge by unanimous decision and advanced to the semifinals after Peter Aerts had to pull out due to a rib fracture, where he knocked out Musashi with a flying knee to get to the finals where he rematched Semmy Schilt. Glaube lost the fight by a first-round KO after a knee to the head.
As a WGP runner-up, he fought at the 2006 eliminations, beating Paul Slowinski by unanimous decision. He knocked out Ruslan Karaev in the first round and advanced to the semifinals, losing by TKO in the second round to Peter Aerts.
On September 29, 2007, Feitosa met German kickboxer Chalid Arrab at the K-1 World GP 2007 in Seoul Final 16. He won the fight by unanimous decision and qualified himself for K-1 World GP 2007 Final held on December 8, 2007, at the Yokohama Arena, Japan.
Feitosa met two-time defending champion Semmy Schilt. Glaube lost a unanimous decision to Semmy for the third time.
After knocking out Alex Roberts in March 2008, Glaube fought for the new Heavyweight title against Badr Hari at the K-1 World GP 2008 in Fukuoka. Glaube was knocked out in the first round.
At the K-1 World GP, 2008 Final 16 Glaube fought the 2008 Amsterdam Champion, Errol Zimmerman. Glaube lost a unanimous decision after being battered by the heavy hands of his opponent over three rounds.
In 2009 Glaube knocked out Junichi Sawayashiki and was voted in by the fans to fight at the K-1 World Grand Prix 2009 Final 16, in a rematch against Errol Zimmerman. Zimmerman won by decision. Glaube has most recently been recruited by Maurico Shogun Rua to help him prepare for his upcoming fight with Lyoto Machida.
Titles
K-1 World Grand Prix 2009 – Final 8
K-1 World Grand Prix 2008 – Final 8
K-1 World Grand Prix 2007 – Final 8
K-1 World Grand Prix 2006 – Final 8 (3rd place)
K-1 World Grand Prix 2005 – Final 8 (2nd place)
2005 K-1 World Grand Prix Runner Up
2005 K-1 World Grand Prix in Las Vegas Champion
2005 MVP in Kyokushin Karate World Cup in Paris
2003 No.4 in 8th Kyokushin World Open Tournament Championship
1999 No.4 in the 7th Kyokushin World Open Tournament Championship
1997 2nd Place in World Championship-Heavyweight
1997 America's Cup Champion
1997 All-South American Champion
1997 All-Brazil Champion
1996 All-Brazil Champion
1995 No.8 in the 6th Kyokushin World Open Tournament Championship
Active fighting years: 1995-2009