Martial arts fans will have the opportunity to enjoy the biggest fight show of the year live, as fans are allowed to enter the venues in Bulgaria now. Tickets for SENSHI 10 are even already on sale in the Eventim.bg network.
Clash of the Titans will be held in accordance with all measures and regulations of the health authorities on 4-th of December in Varna, Bulgaria. The fight spectacle will start exactly at 7PM EET.
The international professional fight night will witness 11 breathtaking fights in KWU Full Contact and KWU SENSHI rules. Some of the local Bulgarian stars will fight against opponents from Portugal, Romania, Switzerland, Spain, France, Ukraine, Belarus, Montenegro, Serbia, Slovakia, Bosnia and Herzegovina, Russia and Germany.
Tickets for SENSHI are priced at 10 BGN and 20 BGN. Everyone can also book a VIP table from which to watch Clash of the Titans from even closer.
As traditional VIP guests of the events will be the K-1 living legends Peter Aerts, Semmy Schilt, Ernesto Hoost. They will also be commentating and refereeing at the event. They will also be teaching at a seminar organized by the International Professional League of KWU between 3-rd and 5-th of December.
For the first time at SENSHI we will also see the veteran of the K-1 Max organization Albert Kraus. The Dutch fighter is a former competitor in welterweight and middleweight division and is the first crowned champion of K-1 Max and SUPERKOMBAT. He is also multiple-time world champion in muay thai in several different organizations and has over 120 professional fights in his career. He has crossed gloves with names as Giorgio Petrosyan, Buakaw, Andy Ristie, Andy Souwer and others. He will also make a guest appearance at the seminar.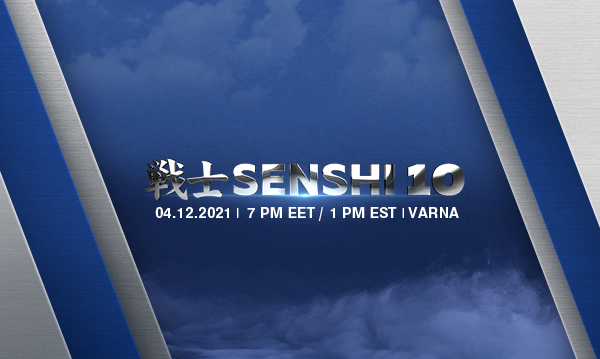 The combat show will be broadcast live by the US platform FITE and online at Senshi.com, Boec.bg, Boec.com, Kwunion.com and Kyokushinkarate.news.
Expect more information about the fight night soon! Follow our website and the social media profiles of SENSHI.
SENSHI 10 is organised with the cooperation of the KWU International Professional League, Armeec Insurance Group, Max Sport, Bulgaria Air, M-Car Group.
Media partners of the event are Boec.BG and Boec.COM, Bulgarian national TV Bulgaria ON AIR, US online platform for combat sports FITE, Gol.bg, Topsport.bg, Kwunion.com, Russian Union Of Martial Arts, Kyokushin Кarate News and Fighto.News.